KERRY SHANKLIN (Director) is delighted to be working again at the Columbus Civic where she has directed Beyond Therapy, A Christmas Carol (2017), (2018), and (2019), as well as A.. My Name is Alice. Also an actress, she has been seen here as Miss Helen in Road to Mecca, Ruth Steiner in Collected Stories, Mrs. Warren in Mrs. Warren's Profession, and appeared in A Doll's House Part 2. Next season, Kerry will be directing I Do! I Do! and Noel Coward's Private Lives. She has a PhD in Theatre/Directing from The Ohio State University and an MFA in Acting from Florida State. Kerry is a member of Actors Equity Association and the Screen Actors Guild.
ABBY DORN (Asst. Director, Musical Director, Mrs. Cratchit, Belle, and the Laundress) is happy to be a part of A Christmas Carol again. This is her eleventh production with the Civic, appearing in Beyond Therapy, Road to Mecca, Mrs. Warrens Profession and A... My Name is Alice. She directed The Girlhood of Shakespeare's Heroines, the first show of our 2020 season. Abby has a B.A. in theatre from Drew University and is a yoga teacher and musician. She is grateful for the adventure of working with sons and her mother, as well as the rest of this wonderful group.
DAVE MARTIN (Sound Engineer) has designed sound for the Civic on three occasions. Founder of the Fluffy Goonies, he lives and works in Hilliard with his wife and their boy, Joseph.
CHRIS SHAW (Musician) is a multi instrumentalist from Columbus Ohio. He has worked professionally in music for over 15 years out of Ohio. He had played all over the U.S. and has brought his skills to Europe playing fiddle in a country band n a tour spanning 7 countries. He recently began honing his recording skills producing local artists and recording drums, guitar, and violin working with artists like The Ark Band, Billy Zenn, Matthew Morgan Nick D'Andrea, Doc Robinson, and more. He is very thankful to be involved with the Columbus Civic Theater and looks forward to more collaboration to come.
MEGAN MATEER (Foley Artist, Covid Compliance Officer) has been involved in theatre for most of her life. Working in every aspect of theatre on the amateur and profession level, she also believes that education is very important. To that end, she has achieved a PhD in Theatre, and long the way, ran two theatre departments, Antioch College and Ohio Dominican University. She has had a wonderful time getting back in to theatre after a several-year hiatus working with Weathervane, MadLab, Worthington Players, and SRO, as well as The Columbus Civic. Along with directing and acting, she runs Tabatay Theatrical Props, a resource for properties and set pieces.
HAROLD YARBOROUGH (Narrator) is thrilled to be back at the Civic, if only in voice. In 2017, he played the iconic role of Ebenezer in that year's production of A Christmas Caol after stints in Driving Miss Daisy and Antigone. Other shows include Annie, Big River, Ragtime, Les Miz and The Boys Next Door. Praise God for the opportunity to do this show, and undying support from wife Vickie, family and friends, and a special thanks to Ken and Robin.
TRACY W. TUPMAN (Ebenezer Scrooge) has been active in theatre as an actor (in Hamlet as Horatio, Arsenic and Old Lace as Jonathan Brewster, Heartbreak House as Capt Shotover and, most recently The Importance of Being Ernest as Dr. Chasuble. As a director, he has mounted Deathtrap, Much Ado About Nothing, Carousel, A Thurber Carnival, and as a playwright (with several productions by university and community theatres) since the earth first began to cool.
BRITT KLINE (Mrs. Dilber, Mrs. Wilkins, Charity Lady) is one of the core performers at the Civic. She has performed in 45 of the Civic's 92 productions. You may have seen her in in other shows here at the Civic: The Late Christopher Bean, As You Like It, The Miracle Worker, Beyond Therapy, Long Days Journey into Night, Collected Stories, A . . . My Name is Alice, Twelfth Night, A Streetcar Named Desire, Macbeth, and of course, A Doll's House. Britt is a school librarian and lives in Clintonville with her husband and enjoys all outdoor activities, reading romance novels, and gardening.
VICKY WELSH BRAGG (Ghost of Christmas Past, Mrs.Fezziwig) is excited to be back at the Civic in this challenging role. Some of her other roles at Civic include Martha in Who's Afraid of Virginia Woolf, Mother Courage in Mother Courage, Violet Venable in Suddenly Last Summer, Scrooge in A Christmas Carol; and a favorite – performing in Love Letters with her husband. She was a member of Actor's Theatre for many years, where she played such various roles as fairies (Titania – A Midsummer Night's Dream); queens (Gertrude – Hamlet and Tamora in Titus Andronicus; Eleanor in The Lion in Winter); a shrew (Kate Taming of the Shrew) and the devil (Mephistopheles in Dr. Faustus). Other credits include Tallulah Bankhead in Looped; and Juanita Bartlow in Sordid Lives at Evolution; voice over work, film and video. Thank you Richard and my talented cast mates for this opportunity.
SCOTT DOUGLAS WILSON (Bob Cratchit, Old Joe) is thrilled to return to the Columbus Civic Theater, where he has also appeared in Mrs. Warren's Profession and The Zoo Story. Recent regional credits include Terms of Endearment (eMBer Women's Theatre); Frankenstein (Actors' Theatre of Columbus); August: Osage County (SRO Theatre Co.); And Then They Fell (MadLab); Baskerville: A Sherlock Holmes Mystery (CATCO isTheatre); The Shadow Box (Adrenaline Theatre Group). He wishes to thank the cast & creative team. Merry Christmas!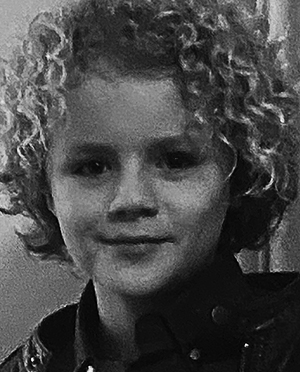 MACEO BERMUDEZ (Tiny Tim, Newsboy, Peter Crachit) has just turned ten years old and is in fourth grade. This is Maceo's fourth (and last) year as Tiny Tim.
TODD TAYLOR (Mr. Fezziwg, Mr. Wilkins, Businessman) is a veteran of the Civic stage, having performed in 42 of their 92 productions! His favorite roles are Dr. Haggett in The Late Christopher Bean, Touchstone in As You Like It, Judge Dempsey in Strictly Dishonorable, Harold in Orphans, and recently John Cleary in The Subject was Roses. Todd is a salon hairstylist and lives in Clintonville with his dog, Prince.
FRANNIE MAMLIN (Fan, Charity Lady) is thrilled to be a part of A Christmas Carol. She has just wrapped up playing Emma in Lucas Hnath's A Doll's House, Part Two, and Miranda in The Girlhood of Shakespeare's Heroines at the Civic Theater. Attending Linworth Experiential Program and Thomas Worthington High School, Frannie has performed in several school productions including The Laramie Project (Sgt. Hing, Elieen Engan, Sharron, Russel's Grandmother), and The Exiled Princess (Meave). Frannie studies voice and cello and has been passionate about theater since she was 10 years old.
SAM BERMUDEZ (Businessman, Fred, Young Ebenezer) is delighted to be in Christmas Carol for the third time. He has been in numerous plays since third grade, with favorite roles including Romeo in Romeo & Juliet, Willy Wonka in Charlie and the Chocolate Factory, and Horton in Seussical Junior. Sam is a sophomore at Columbus Alternative High School where he sings with the CAHS Chorale and recently performed in Check .
MAX MUIR (Marley's Ghost, Ghost of Christmas Present) is coming full circle with this show, having found his love of acting in a fourth grade production of A Christmas Carol. Lately, he has been seen as Clem in The Wave That Set the Fire at MadLab and Wargrave in And Then There Were None with Cyclodrama. For two years now, Max played Bob Cratchit and various other roles in the Civic's annual production of A Christmas Carol. Merry Christmas, all!